Creative Writing Series 2022 – 2023
2022-2023 CREATIVE WRITING SERIES
High Desert Launch 

Thursday, Nov. 10, 2022 at 5:30pm

TANA (Taller Arte del Nuevo Amanecer) 1224 Lemen Ave. Woodland, CA

Reading/Q&A with André Naffis-Sahely; Introduction by Katie Peterson

 

André Naffis-Sahely is the author of two collections of poetry, The Promised Land: Poems from Itinerant Life (Penguin UK, 2017) and High Desert (Bloodaxe Books, 2022), as well as the editor of The Heart of a Stranger (Pushkin Press, 2020). He is the editor of Poetry London in the UK.

 

Katie Peterson is the author of five published books of poetry and the forthcoming collection, Fog and Smoke. She lives in Berkeley, California, and teaches at the University of California at Davis, where she directs the Creative Writing Program.

 

Maceo Montoya is an award-winning author, artist, and educator who has published books in a variety of genres. His latest publication is Preparatory Notes for Future Masterpieces: A Novel (University of Nevada Press, 2021).

 

 

Margo Jefferson: Constructing A Nervous System

RESCHEDULED: TBD

Wednesday, Nov. 16, 2022 at 4:30 PM PST

 

Margo Jefferson, the award-winning critic and author of Negroland, reads from her latest memoir, Constructing a Nervous System. A conversation with Assistant Professor of English Zinzi Clemmons and Q&A follow the reading. Jefferson — the winner of a Pulitzer Prize for criticism and a Windham-Campbell Literature Prize in nonfiction — previously served as book and arts critic for Newsweek and the New York Times. Her writing has appeared in Vogue, New York Magazine, the Nation and Guernica, among other publications. Her memoir, Negroland, received the National Book Critics Circle Award for Autobiography in 2016. Jefferson is also the author of On Michael Jackson (2006) and is a professor of writing at Columbia University School of the Arts.

Organized by the Department of English and Program in Creative Writing. Co-sponsored by the Manetti Shrem Museum and the Department of African and African-American Studies.

 

 

Jennifer Elise Foerster

Wednesday, Jan. 18, 2023 at 4:30pm

Shields Library Room 205

 

Jennifer Elise Foerster is the author of three books of poetry, The Maybe Bird, Bright Raft in the Afterweather, and Leaving Tulsa, and served as the Associate Editor of When the Light of the World Was Subdued, Our Songs Came Through: A Norton Anthology of Native Nations Poetry. She is the recipient of a NEA Creative Writing Fellowship and a Lannan Foundation Writing Residency Fellowship. She was a Wallace Stegner Fellow in Poetry at Stanford, holds a PhD in Literary Arts from the University of Denver, and teaches Poetry at the Rainier Writing Workshop among other programs. Foerster grew up living internationally, is of European (German/Dutch) and Mvskoke descent, and is a member of the Muscogee (Creek) Nation of Oklahoma. She lives in San Francisco

 

Christopher Reid: The Song of Lunch

Wednesday, Feb. 15, 2023 at 4:30pm

Manetti Shrem Museum Collections Classroom

The Song of Lunch screening and reading

 

Christopher Reid has written many books of poems, for both adults and children, and for most of the 1990s he was poetry editor at the London publishing house of Faber and Faber. Among his works are A Scattering, which addressed the loss of his first wife and was named Costa Book of the Year for 2009, and The Song of Lunch, a narrative poem which became the screenplay for a BBC2 film starring Alan Rickman and Emma Thompson. The actor Robert Bathurst has presented A Scattering and The Song of Lunch as a theatrical double bill, under the title Love, Loss & Chianti, most recently at the 2022 Edinburgh Fringe Festival. Reid's latest publications have been Old Toffer's Book of Consequential Dogs (2018), a canine companion for T.S. Eliot's Practical Cats; The Late Sun (2020); and Poems of London (2021), an anthology in Everyman's Pocket Poets series. His new collection Toys/Tricks/Traps will be appear in April this year, and his edition of Seamus Heaney's correspondence in October.

 

Organized by the Department of English and Program in Creative Writing. Co-sponsored by the Manetti Shrem Museum.

Salvador Plascencia

Wednesday, Apr. 5, 2023 at 4:30pm

Shields Library room 205

 

Salvador Plascencia is the author of the cult favorite The People of Paper, named a best book of the year by the San Francisco Chronicle, Los Angeles Times, and Financial Times. The People of Paper has been translated into a dozen languages and widely anthologized and adopted in Chicanista, postmodern, and design courses throughout the country. His writing has appeared in McSweeney's, Lucky Peach, Tin House, and the Los Angeles Times. He teaches fiction writing at Harvey Mudd College.

 
Michael D. Snediker is a poet and scholar of American literature, poetics and disability theory. His most recent book is 2021's Contingent Figure: Chronic Pain & Queer Embodiment, which brings together literary, queer and disability studies. 
UC Davis Professor Lucy Corin's newest novel is The  Swank Hotel, published in October.
Register here: 
 https://ucdavis.zoom.us/meeting/register/tJctduCtrzwqEtX-0HYm_dFDJF8MckCztvlD 
Register for Myriam Gurba here: 
https://ucdavis.zoom.us/meeting/register/tJwkd--rqDMqGNMXKBFXomHIUGGsZZ9...
Register for Aria Aber here: 
https://ucdavis.zoom.us/meeting/register/tJwrc-CpqDwtGdTbMPSelTN243L6Zpr...
'A Reading by the Signs' Graduate MFA Farewell Reading
A celebratory reading to hear from each of our Second Year MFA Graduates, and the writing they've been hard at work creating. Register online.

Readers:

Rowena Chodkowski: Rowena is a founding member of the Beijing-based Spittoon Literary Collective, China's largest multilingual literary collective; her work has been published in local indie publications, including the Shanghai Literary Review.


Jake Rose


Brianna Cockett-Mamiya: Brianna Cockett-Mamiya is a fiction writer from Honolulu, Hawaii.


Jordan Dahlen: Jordan Dahlen is a poet from the desert, now living and writing in Davis, CA. A Mellon Public Scholars Fellow, Jordan is currently completing his MFA in Creative Writing from UC Davis. When he's not teaching, reading, or writing poems, he can be found with his family in the tree zoo near their home.


Sawyer Elms: Sawyer Elms was raised by the Sonoran and Mojave Deserts and the toads he found there. When he was young he played outside, didn't wear clothes, and often snuck horse feed from his grandfather's wheelbarrow.


Kelsey Ford: A native of the Pacific Northwest, Kelsey Ford is currently pursuing an MFA at UC Davis. She's previously been published in Storychord, Her Royal Majesty, and Bright Wall / Dark Room


Jen Soong: The daughter of Chinese immigrants, Jen Soong grew up in a small town in New Jersey. An alum of VONA, her writing has appeared in The Washington Post, GAY MAG, Manifest-Station, Entropy and Jellyfish Review.


Anna Tuchin
For more information please contact cniu@ucdavis.edu, jrthornton@ucdavis.edu, or ammendoza@ucdavis.edu
Event sponsored by the English Department's MFA in Creative Writing in collaboration with Shields Library
Three poets in conversation
From left: Jessica Laser, Margaret Ross and Noah Warren

The UC Davis Creative Writing Program in the Department of English will present online readings March 2 and 3 — one by a star of the literary world, and another by three UC Davis alumni with newly published books. In April, three lyric and narrative poets who create long-form works will take part in a conversation and give readings. All the readings are co-sponsored by the UC Davis Library.

Poets Jessica Laser, Margaret Ross and Noah Warren, whose work makes equal use of music and story, will have an online conversation April 8 at 3 p.m. with poet Katie Peterson, director of the UC Davis Creative Writing Program, and a Q&A session with audience members. The three will give a reading at 4:30 p.m.
Laser has written two books of poems, Sergei Kuzmich from All Sides and "Planet Drill," being published this year. Her work has recently appeared online at the Poetry Foundation, in the Bennington Review, and in Aurochs. A graduate of the Iowa Writers' Workshop, she is a doctoral candidate in English at UC Berkeley.
Ross is the author of A Timeshare and her poems have recently appeared in The New Republic, The Paris Review, Poem-a-Day and The Yale Review. A former Stegner Fellow at Stanford University, she is a Harper Schmidt Fellow at the University of Chicago.  
Warren's "The Complete Stories" will be published in May, and his The Destroyer in the Glass was chosen for the Yale Series of Younger Poets. His poems have been published in The Paris Review, POETRY, The American Poetry Review and Ploughshares. He is a doctoral student in English at UC Berkeley.  
Register for the conversation with three poets here.
Register for the readings by three poets here.
***Past Events***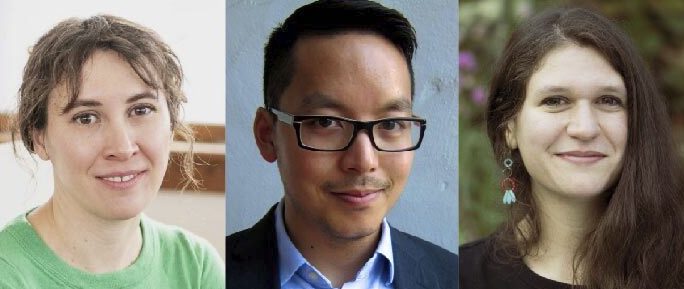 Alumni share new novels
From left: Megan Kaminski, Kiik Araki-Kawaguchi and Becky Mandelbaum
Three graduates of the Creative Writing Program will return to campus virtually March 2 at 4:30 p.m. to read from their books published last year.
Megan Kaminski (M.A., English, '05) is author of three poetry collections, the most recent titled Gentlewomen. An essayist as well as a poet, her writing has been published in the American Poetry Review, The Atlantic and other publications.
Kiik Araki-Kawaguchi (M.A., English, '11) is author of the novels The Book of Kane and Margaret, published in 2020, and Disintegration Made Plain and Easy. He also is a widely published poet.
Becky Mandelbaum (M.A., English, '16) won the Flannery O'Connor Award for Short Fiction and the High Plains Book Award for First Book for her story collection Bad Kansas. Her new book is The Bright Side Sanctuary for Animals. Her work has appeared in One Story, The Sun, Prairie Schooner and other publications.
Register for the alumni readings here.
National Book Award finalist Carmen Maria Machado reads
Carmen Maria Machado is the author of the bestselling memoir In the Dream House and the award-winning short story collection Her Body and Other Parties. In the Dream House traces the arc of a harrowing relationship with a charismatic but volatile woman and Machado's struggle to make sense of how what happened shaped her. She will read March 3 at 4:30 p.m.

Machado is winner of the Bard Fiction Prize, the Lambda Literary Award for Lesbian Fiction, the Lambda Literary Award for LGBTQ Nonfiction, the Brooklyn Public Library Literature Prize, the Shirley Jackson Award and the National Book Critics Circle's John Leonard Prize. She was a 2017 finalist for the National Book Award.
Creative writing Master of Fine Arts students Anna Tuchin and Brianna Cockett-Mamiya will also read.
The reading is co-sponsored by the Jan Shrem and Maria Manetti Shrem Museum of Art.
Register for the readings by Carmen Maria Machado and M.F.A. students here.
(Content by Jeffery Day)